In the Bonanomi Precision Mechanical Workshop, we produce various Clamping Systems for Machine Tools, including G25 Cast Iron Clamping Squares. At every stage of manufacture, we comply with DIN Standards.
The Bonanomi Clamping Squares are elements used in many fields of precision mechanics, both for chip removal and for geometric and dimensional control.
The main feature of the Clamping Squares is that they have a vertical plane, machined or with T-Slots or Zero Point, orthogonal to the support base according to DIN 875. This standard defines the maximum deviations that the vertical plane can have from the base.
Clamping Squares for Machine Tools
Generally used on chip-removing machine tools, the Clamping Square provides a substantial advantage in terms of workpiece machining.
This structure allows better use of the machine worktables (especially for moving-column milling machines), thus ensuring that several workpiece faces can be reached with a single set-up, speeding up times and allowing operators to save resources that can have a positive impact on machining dynamics.
Clamping Squares with T-slots and G25 Cast Iron

---
Of the various Clamping Systems for Machine Tools, the Clamping Squares can be dimensionally customised and supplied with T-Slots from 14 to 28 mm as per DIN 650 table with tolerances H7 and H12.
The material used for this product is Cast Iron G25 with Lamellar Structure, which unlike electro-welded steel, absorbs the vibrations caused by the chip removal process, minimising the negative aspect that this causes both on the machined surfaces (vibrated milling) and the structural integrity of the machine tool.
For large Clamping Squares, several pieces can be used to form the desired size. This type of bracket is very versatile as the modularity of the structure allows multiple types of placement.
As an alternative to our standard Precision Mechanical Industry Products shown in the catalogue, Bonanomi can produce any size bracket, using any material, to better meet the needs and requirements of the end customer.
Not only Clamping Squares: discover other Bonanomi Products

---
In Bonanomi, we develop a wide range of mechanical processes for our customers.
In our Precision Mechanical Workshop, we also manufacture:
We also offer Third Parties Mechanical Processing (Outsourcing Services).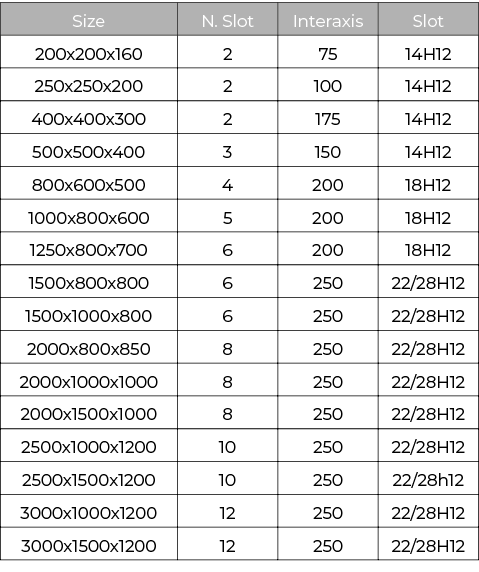 Fill in the form below. We will answer as soon as possible.