Products > Dressing Plates
Dressing plates are bases made in G25 grey cast iron used in the general mechanical sector to control or mark pieces in any material and shape.
The composition of the material is particularly suited to these applications since lamellared structure cast iron has an excellent thermal stability and therefore almost constant precision, guaranteeing very moderate flatness characteristics. This is the main feature of our item, complying with standard Din 876,I°,II°,III°.
The G25 cast iron is supplied with hardnesses ranging from 170-210 HB and a tensile strength of around 260 N/mm2.
The surface, called a plate, is perfectly flat the part underneath the plate is formed by ribs which increase the rigidity of the base according to the weight the structure will have to bear.
Dressing plates production starts from single pieces measuring from 1000x800 mm to 7000x2000 and 6000x2500mm.
These plates differ from surface plates only for their foothold to underneath surfaces: dressing plates have at least four footholds and their number can increase depending on working surface size.
Modularity is a fundamental characteristic in order to adapt to any construction layout.
As levelling accessories, we supply support columns or electro-soldered and painted tubular steel supports in various sizes, depending on the customer's requirements, all with the possibility of being adjusted using micrometric screws.
Our company also offers an installation and mounting service, providing, at the end of installation works, inspection certifications and certifications of conformity for each task.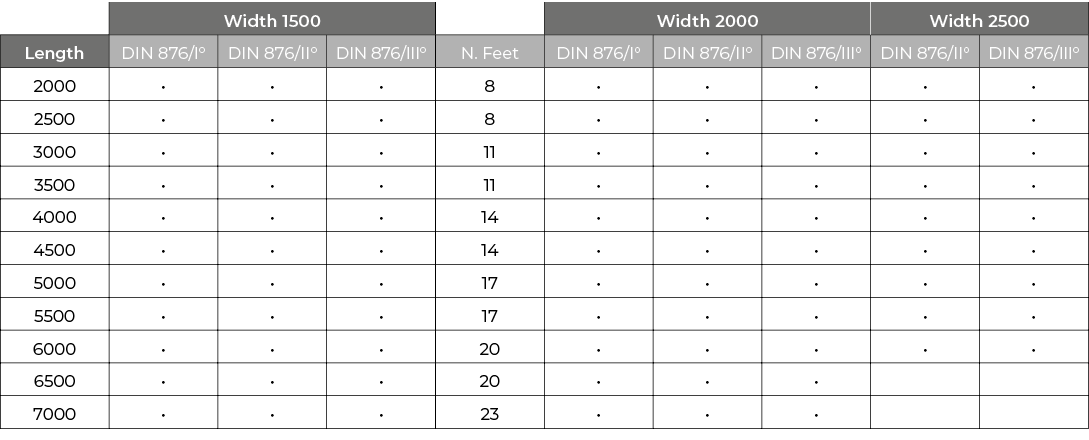 Dressin plates with leveling from below