In our Precision Mechanical Workshop, we manufacture and sell small-sized G25 Cast Iron Surface Plates. Request them now and get them ready for delivery!
The Surface Plates are small-size Dressing Plates, easily distinguishable thanks to the type of isostatic support (on 3 points) that guarantees their stability. They are made up of a thick plate to which a system of ribs is attached to ensure rigidity over the entire surface.
Bonanomi Surface Plates are made of G25 Cast Iron with Lamellar Structure and a hardness between 170-210 HB.
Surface Plates: how they are made



The Manufacturing Process to which the Surface Plates are subjected involves grinding the working surfaces, milling the edges at right angles to each other, grinding the support feet, and depending on the DIN 876 Standard to which they refer, they can be scraped (DIN I°) or scratched (DIN II°).
As the name suggests, the Surface Plates are suitable for the inspection of mechanical components, for scribing, for testing and for the inspection of planar surfaces.
The range of available sizes, depending on the size of the working surface, extends from 200x150 mm to 800x600 mm. As an alternative to our standard Precision Mechanical Industry Products shown in the catalogue, Bonanomi can produce any dimensional range, using any material, in order to better comply with the needs and requests of the final customer.
Not only Surfing Plates: discover other Bonanomi products

---
Not only Surfing Plates: discover other Bonanomi products
In our Precision Mechanical Workshop, we also manufacture:
We also offer Third Parties Mechanical Processing (Outsourcing Services).
Surface Plates: Sizes e DIN Standard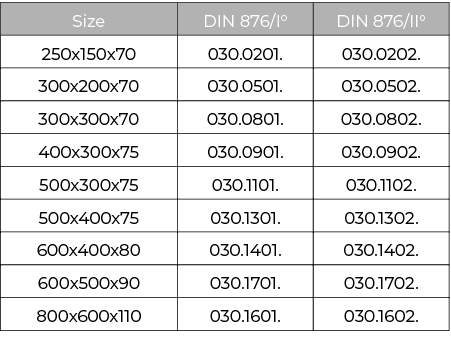 Fill in the form below. We will answer as soon as possible.