In precision mechanics, clamping systems refer to the set of components that are used to improve workpiece positioning and machining conditions.
These are products of a different nature, usually made of cast iron to ensure vibration dampening, durability and reliability over time, which are remarkably useful for holding together the various construction details of the work to be built and optimizing the required machining processes.
In the following lines, we take a look at the most common clamping systems. From clamping plates to towers: here is everything you need to know on the subject.
Clamping Plates

---
The best known clamping system is certainly the clamping plate, the flagship of the Bonanomi srl precision mechanical workshop. On a technical level, it consists of a G25 cast iron casting with a lamellar structure and a very high level of flatness, hollow linearity and impermeability.
Typically, these plates are characterized by the presence of T-slots on the work surface, which are functional for modular clamping by sliding dowels along the entire hollow surface.
In order to meet customers' requirements, the clamping plates are adapted to all positioning needs, with the adjustment being made directly on the working surface by means of specific wells cut in the casting itself, in which the micrometric levellers for adjustment are inserted.
Today, they are successfully applied not only in precision machinery but also in general mechanics, where they are chosen for operations related to assembly, testing or the execution of both static and dynamic tests.
Modularity is a distinguishing feature of clamping plates, while the maximum load-bearing capacity varies depending on the thickness of the plate and the type of levelling used. It usually ranges from 5 to 50 T/m2.
Bonanomi's clamping plates, as well as dressing plates, meet the requirements of DIN 876 regarding the flatness of machined parts.
Clamping Squares
---
Clamping squares are widely used in precision engineering workshops for both chip removal and geometric and dimensional control.
Among the benefits that these provide, especially with regard to workpiece machining, are a substantial reduction in machining times, significant resource savings and the possibility of more functional use of machine worktables.
Like the previous clamping system, it is traditionally made of cast iron G25 with a lamellar structure and is characterized by a vertical plane, machined either with T-slots or zero points, and a support base, orthogonal to the plane itself.
G25 cast iron is preferred to electro-welded steel because it is able to absorb, in a timely manner, the vibrations arising from the machining process, thus minimizing the negative aspect that this can cause.
The dimensions of the clamping squares vary according to the requirements to be met and the use to be made of them. On the Bonomi portal it is possible to request dimensionally customized squares or to purchase the products in the Express Shop.
Clamping Cubes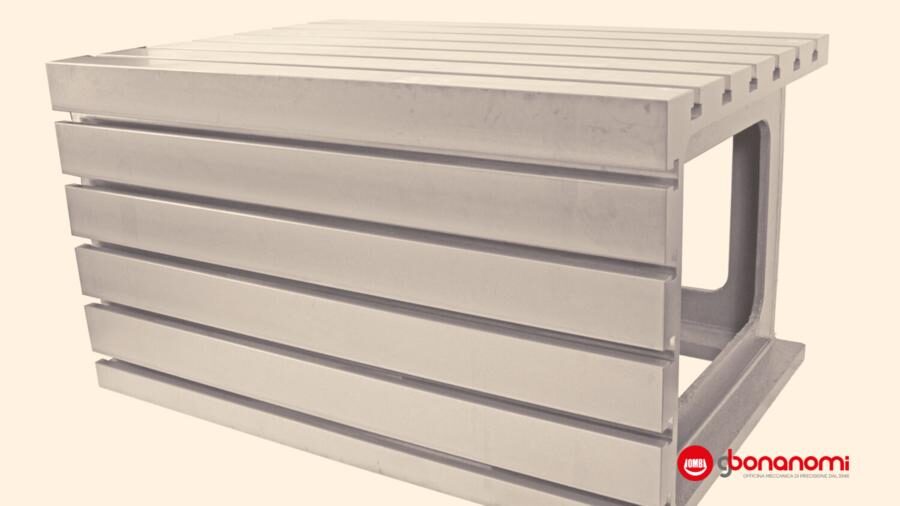 Typically used on both large and small milling machines, clamping cubes ensure the best conditions for workpiece placement or machining.
They can be manufactured in a variety of ways: in addition to being produced with T-slots, they can have a grid of holes, depending on the requirement to be met. At the same time, they can be supplied either single-storey, orthogonal planes or multi-storey.
Like most precision engineering products, the clamping cubes are made of G25 cast iron with a lamellar structure, which is to be considered among the precision engineering metals offering the highest quality standards.
Clamping Towers
---
The penultimate clamping system presented in this article are the clamping towers, monolithic structures made of G25 cast iron, executed with two opposing vertical hollow planes, which find easy application especially on large boring machines or on all those machines that use rotary tables, such as palletized machining centres.
They can be customized in terms of size according to purpose.
Clamping Planks
---
Clamping planks refer to precision engineering products made from rolled steel or G25 cast iron plates.
At a later stage, they can be machined for clamping by means of T-slots or grids of threaded holes to which hardened (zero point) sleeves can be added for greater positioning accuracy. Their main task, in fact, is precisely to ensure the best assembly of modular equipment.
Clamping planks are often confused with clamping plates: in reality, the two products differ both in thickness and in the presence (or absence) of levelling systems.
LATEST PUBLISHED ARTICLES

---